By Daphne, 22 Feb 2011.
It was close to 20 years ago when the last train went down the tracks of the Jurong Line of the KTM Malayan Railway in Singapore. These tracks, which run from the Jurong Industrial park to Bukit Timah, has since been dismantled in part, but mostly left abandoned.
In May 2010, news that Tanjong Pagar Train Station, the only remaining train station part of the KTM Malayan Railway Network that still functions in Singapore, was going to move north to Woodlands broke out. The KTM Malayan Railway has for years brought people and goods from Malaysia to Singapore and vice versa. Since then, there has been speculation as to what would happen to these railway tracks – both the line that runs from Tanjong Pagar to Woodlands, and the Jurong Line.
I took a walk down the Jurong Line, two Sundays ago, and to my dismay, work on removing these tracks had already started.
I had began my walk from Penjuru Road, near the Teban Gardens estate in Jurong, and was wondering why I could not spot any semblance of the tracks – I was even starting to think that I was not going down the right path. Read more
By Daphne, 22 Feb 2011.
Want to walk the Jurong Line, the abandoned railway that is part of the KTM Malayan Railway Network and not quite sure how to? Here's a photo guide that will show you how:
View KTM Malayan Railway Lines in Singapore in a larger map
From Penjuru Road to the Tunnel, along the Teban Gardens Estate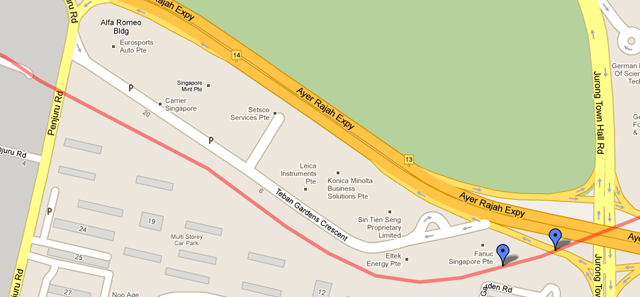 Entering the path from Penjuru Road, you will likely to be greeted by a dirt path. The dirt path that you see here is caused by some machinery that has already started digging up the tracks around this area. A stream, or perhaps you might refer to it as a drain, runs along the side of this path. On the opposite side of this stream lie some kampung (villages). Read more
By Daphne, 22 Feb 2011.
Over the years, several enclaves developed by the side of the Jurong Line, part of the KTM Malayan Railway Network. These enclaves, termed as kampung ("village" in the Malay language) for the way it resembles – rural, simple, just like a village would look -, consist of small plantations, temples and sometimes even makeshift houses.
It seems, however, as if no one actually live in these kampung, but are instead "owned" and maintained by the residents who live in the neighbouring blocks.
In perpetually developing Singapore, it is inevitable that old things and places will give way to the new. Yet, I'm fairly certain that these kampung were very likely only "built" after the train tracks were abandoned, meaning that they are each less than 20 years old. In light of the fact that most kampung in Singapore were eradicated some 40 odd years ago, these little bits of village life almost appear like an anachronism, inconsistent with today's life in Singapore. Read more
Time: Friday, April 22, 3 – 6pm
Location: Teban Gardens to Sunset Way
Hang Chong from the Nature Society (Singapore) is conducting a special familiarisation trip along the old Jurong Line to train volunteers who are willing to help us lead future walks at the Jurong Line.
Date and Time: Friday, April 22, 3-6pm (Good Friday and Earth Day)
Meeting time: 3pm
Meeting point: Blk 39A Food Centre, Teban Gardens Road (you can take bus 79 or 143 at Jurong East Interchange)
The Jurong Line, completed in 1965, served as an extension into the then newly constructed Jurong Industrial Estate. It failed to generate adequate traffic and was closed in the early 1990s. It has since been partially dismantled.
Be a volunteer and join us for this walk and explore natural reforestation, spontaneous gardens and small scale farming, walk in a dark underpass, and cross the Ulu Pandan Canal via a majestic cast iron bridge. Be prepared to get your shoes wet and muddy.
Sign up through the Facebook event page at http://www.facebook.com/event.php?eid=202596733105556 or indicate your interest in the comments section below.
Straits Times Forum, 8 Mar 11.
THE eagerness with which we want to make life easy for motorists is a narrow paradigm ('Faber residents squawk over road plan'; last Wednesday).
The Land Transport Authority must design the city for people and not for cars. Perhaps traffic can be eased if we made it easier for people to cycle and walk, which is what the Nature Society (Singapore)'s plan for the green corridor envisions: a 40km stretch for eco-friendly and less carbon-intensive passage.
The corridor could become an iconic regional attraction, which can be propped up by an economic model that earns revenue. It would also preserve our ecology and heritage for generations – a real winner for all.
Source: Straits Times via Wildsingapore
Access road that LTA is set to build will cut through area of greenery where wild birds live
By Amanda Tan Straits Times 2 Mar 11.
THE Land Transport Authority's (LTA) decision to build a road in Clementi has ruffled the feathers of nature lovers living in the area.
Work has started on the 1km road aimed at easing congestion along Jalan Lempeng, which connects to Clementi Avenue 6.
The new road, which gives a direct link to Commonwealth Avenue West, will cut through an area of greenery where residents said wild birds such as the long-tailed parakeet and Tanimbar Corella are regularly sighted.
Source: Straits Times via Wildsingapore
[This trip is cancelled due to unforeseen circumstances. We apologise for the inconvenience caused.]
We are conducting 2 special familiarisation trips along the old Jurong Line on 3 Apr (8-11am) and 9 Apr (3-6pm) to train people who are willing to help us lead future walks at the Jurong Line. If you are interested, express your interest here and we will contact you soon.
We are conducting 2 special familiarisation trips along the old Jurong Line on 3 Apr (8-11am) and 9 Apr (3-6pm) to train people who are willing to help us lead future walks at the Jurong Line. If you are interested, express your interest here and we will contact you soon.